Chicago Clamp Company's Chicago Clamp Systems™ provide structurally sound and cost-effective solutions for your roof opening and joist loading projects. These two unique Chicago Clamp Systems™ are engineered and tested with known load capacities and distributions and offer versatile, reliable, and affordable solutions for joist and beam projects.
Utilizing 30 years of engineering experience, Chicago Clamp Company was founded with the mission to create a new, safe, structurally-reliable, and economical standard for framing roof openings and supporting and distributing loads from joists. For decades, contractors have used traditional welding and cut-angle methods. These methods require certified welding which can be expensive and complicated. To eliminate these inherent project risks, Chicago Clamp Company has developed two easy-to-install Clamp Systems. Each of these Chicago Clamp Systems® preserves the integrity of trusses and saves installation time and money.
Chicago Clamp Systems' Benefits:
Reduces cost and shortens installation schedule
No welding required
No specialized tools required
Easy installation and removal
Easily relocates to meet changing needs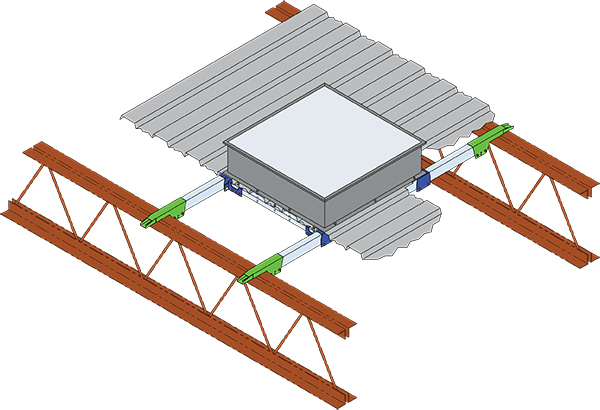 Framing Clamp Systems
Fast and easy to install, the Framing Clamp Systems are perfect for framing roof openings or providing additional support for loads above or below the roof line. Without welding, the Framing Clamp Systems are installed directly beneath corrugated roof decking and transfer the load to joists. A typical installation includes four End Clamps and four T-Brackets attached to parallel bar joists or beams and secured with Grade 5 carriage bolts. These systems are ideal for the safe and economical installation of exhaust fans, vents, sky lights and roof mounted equipment.
For more information on Framing Clamp Systems, please contact us directly or visit Chicago Clamp's website.
Suspension Clamp Systems

Safely suspend HVAC equipment, conveyors or other ceiling fixtures without welding or drilling. The Suspension Clamp System offers unmatched flexibility in suspension hardware. Using 5/8″ bolts or threaded rod, equipment can be attached or suspended from joists at the necessary locations.
For more information on Suspension Clamp Systems, please contact us directly or visit Chicago Clamp's website.
DOWNLOAD NOW
Download Brochure
3″ Tube Framing Clamp System. A simple, safe & fast method for providing all the support needed for roof accessories.
DOWNLOAD NOW