Polyiso is a closed-cell, rigid foam board insulation compatible with all types of commercial roofing systems. Polyiso is one of North America's most widely-used and cost-effective insulation products and is known for its responsible impact on the environment.
Benefits of Polyiso Insulation
Dynamic Temperatures – Polyiso is stable over a large temperature range (-100F to +250F) and can be used as a component in roof systems utilizing hot asphalt.
Resistance to Chemicals – Polyiso is not affected by oil-based waterproofing compounds, insecticides or fertilizers when properly protected.
Highest R-Value Per Inch – Higher R-value per inch means less Polyiso material is required. The result: greater energy efficiency, reduced energy waste, and lowered costs for both materials and labour.
Environmental Impact – Virtually no global warming potential. Recyclable through reuse. Zero ozone depletion potential.
Thermal Performance – Only high-thermal foam to meet both FM 4450 and UL 1256 fire tests and stay intact during fire exposure in the ASTM E84 or "Tunnel Test".
Insulation Products Available
For more information on Insulation, please contact us directly or visit Firestone's website.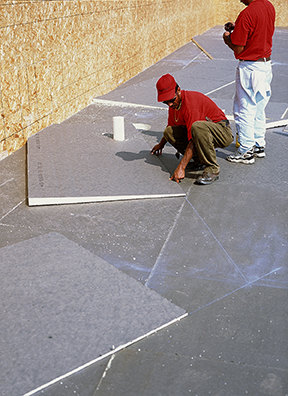 VISIT FIRESTONE'S WEBSITE
2014 LTTR Updates
When specifying a roofing system or ensuring the proposed installation meets specification it is important to know what LTTR (Long Term Thermal Resistance) rating applies. Please click and follow the link for the latest in PIMA (suggest we could link to PIMA here) approved LTTR values related to polyiso for North America.
VISIT FIRESTONE'S WEBSITE