Polyvinyl Chloride (PVC) single-ply roofing membranes are among the most popular commercial roofing products available today. They're remarkably durable and highly resistant to some of the toughest flat-roof aggressors like fire, chemicals, and hurricane-level winds. But the benefits of PVC roofing go beyond durability to include solar reflectivity, which can help regulate building temperature and energy use. Thanks to their performance and installation advantages, PVC roofing systems have been put to the test and trusted by building owners around the world for more than 35 years. The industry continues to innovate, as does Firestone Building Products. Firestone's PVC membranes are available in a range of thicknesses and widths, from 50 mil to 80 mil and 5′ to 10′ widths.

Features & Benefits of PVC
Chemicals, grease, and fire–they don't stand a chance, because Firestone PVC roofing membranes can stand up to them all. Firestone's PVC roofing formulation is chemical, grease, and animal fat-resistant, with strong heat-welded seams that form a permanent, watertight bond and require no seam adhesives, tapes, or caulks.
PVC roofing systems are effective in hot climates where peak loads and air conditioning are a concern. Firestone PVC membranes, in particular, are highly reflective and meet the California Energy Efficiency Standards for Residential and Nonresidential Buildings.
Not all types of thermoplastic roofing materials are recyclable, but PVC roofing materials can be. PVC trim from the manufacturing process is almost 100% recyclable, and PVC membranes can be recycled at the end of a roof's service life.
Working with an established manufacturer like Firestone means you have access to both high-quality products, variety, and protection. Firestone PVC roofing membranes are available in white, in thicknesses of 50 mils, 60 mils, and 80 mils, and in widths of 5′ or 10′. Firestone materials have also achieved Factory Mutual (FM) approvals. Ask about Firestone Building Products Limited Warranties.
Firestone is in the business of delivering complete, quality roofing solutions decade after decade. Our PVC single-ply membrane is no different and has been time-tested in the market for 25 years. It's thermoplastic in nature and exceeds the requirements of ASTM D4434 standard specification for poly (vinyl chloride) sheet roofing. UL Class A, B, and C ratings are available over standard roof decks.
PVC Products Available:
For more information on PVC Roofing Systems, please contact us directly, or visit Firestone's website.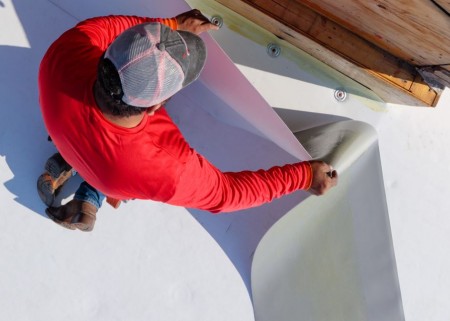 ---
PVC KEE
The Firestone PVC KEE single-ply roofing membrane is ideal for a wide range of low-slope commercial roofing applications and building types, including airports, restaurants, food processors, and manufacturing facilities due to its inherent resistance to grease, fuels, air conditioning coolants, and other harsh chemicals. This resistance paired with UV inhibitors and high-performance watertight heat-welded seams makes for a roofing membrane you can stand behind, decade after decade.
It's all in the Firestone formulation and brand promise. The Firestone PVC KEE formulation has provided quality in-market performance for 30 years and counting. Firestone's PVC formulation with DuPont™ Elvaloy® Ketone Ethylene Ester high molecular-weight polymer additive enhances the already exceptional qualities of Firestone PVC. This solid plasticizer bonds with the PVC to provide consistent and dependable long-term plasticizer retention, ultimately promoting excellent flexibility and durability for the roofing system's service life — which Firestone confidently backs by the Firestone Red Shield Limited Warranty and brand promise.
Features and Benefits of PVC KEE
A Formulation Backed by In-Market Performance
Time is the only way to measure a single-ply roofing system, and Firestone PVC KEE has stood the test of time. Firestone's PVC KEE membrane formulation uses DuPontTM Elvaloy® KEE, a solid plasticizer that bonds with the PVC to provide consistent and dependable long-term plasticizer retention. And we back our PVC KEE with the Firestone Red Shield Limited Warranty of up to 30-years on 80 mils.
Unparalleled Chemical and Fire Resistance
The chemistry of a PVC KEE membrane makes it inherently resistant to harsh chemicals and grease and thus ideal for installations on airports, restaurants, and food processing facilities.
PVC is the most fire-resistant single-ply roofing membrane, and Firestone PVC KEE is no different. Firestone PVC KEE membranes are fire-resistant, difficult to ignite, have a low heat release, and are self-extinguishing in the event of a fire. PVC roofing is often used in construction because of its inherent ability to reduce flame spread.
Highly-Reflective for Sustained Energy Efficiency
Firestone PVC KEE is a highly-reflective cool roof solution that's designed to reflect sunlight and absorb less heat. As a highly reflective roofing membrane, it keeps the interior of the building cooler and can help lower air conditioning costs. PVC KEE can also help mitigate the urban heat island effect, contributing to cooler cities, lower energy consumption, and better air quality.
Firestone PVC KEE meets the California Energy Efficiency Standards for Residential and Nonresidential Buildings (Title 24). These standards define cool roofs in California to have a minimum three-year aged reflectance of 0.55 and a minimum thermal emittance of 0.75 for low-sloped nonresidential buildings. Firestone's PVC KEE membranes are also listed with the Cool Roof Rating Council (CRRC).
Quick Installation Plus Long-Term Durability
Firestone PVC KEE can be installed quickly in a range of temperatures. No seam adhesives, tapes, or caulks are required. Instead, membranes are seamed using a hot-air gun for heat-welded bonds that form a permanent, durable, and watertight monolithic roof. A reinforced membrane and a reliable PVC KEE formulation promote notable impact and puncture resistance for a long-term commercial roofing solution.  VSH PVC KEE assemblies are also available for adhered over top of either Hailgard or Oriented Strand Board (APA rated).
Excellent Product Variety and Support
Few partners can satisfy your commercial roofing needs like Firestone Building Products. From quote to installation and maintenance, we're there for you with around-the-clock training and support. Review Firestone PVC KEE options below and complete your PVC KEE installation with Firestone PVC accessories.
– Available in VSH assemblies
– Achieves UL, Factory Mutual (FM), FBC and NOA approvals
PVC KEE Products Available:
For more information on PVC KEE Roofing Systems, please contact us directly, or visit Firestone's website.