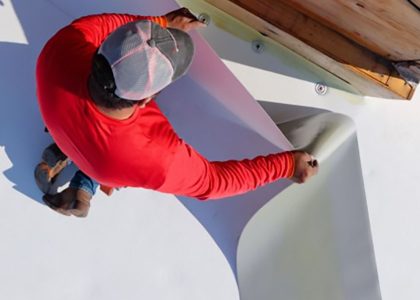 Features & Benefits of PVC:
Chemicals, grease, and fire–they don't stand a chance, because Elevate PVC roofing membranes can stand up to them all. Elevate's PVC roofing formulation is chemical, grease, and animal fat-resistant, with strong heat-welded seams that form a permanent, watertight bond and require no seam adhesives, tapes, or caulks.
PVC roofing systems are effective in hot climates where peak loads and air conditioning are a concern. Elevate PVC membranes, in particular, are highly reflective and meet the California Energy Efficiency Standards for Residential and Nonresidential Buildings.
Not all types of thermoplastic roofing materials are recyclable, but PVC roofing materials can be. PVC trim from the manufacturing process is almost 100% recyclable, and PVC membranes can be recycled at the end of a roof's service life.
Working with an established manufacturer like Elevate means you have access to both high-quality products, variety, and protection. Elevate PVC roofing membranes are available in white, in thicknesses of 50 mils, 60 mils, and 80 mils, and in widths of 5′ or 10′. Elevate materials have also achieved Factory Mutual (FM) approvals. Ask about Holcim Building Envelope Limited Warranties.
Elevate is in the business of delivering complete, quality roofing solutions decade after decade. Our PVC single-ply membrane is no different and has been time-tested in the market for 25 years. It's thermoplastic in nature and exceeds the requirements of ASTM D4434 standard specification for poly (vinyl chloride) sheet roofing. UL Class A, B, and C ratings are available over standard roof decks.
PVC Products Available:
For more information on PVC Roofing Systems, please contact us directly, or visit Elevate's website.